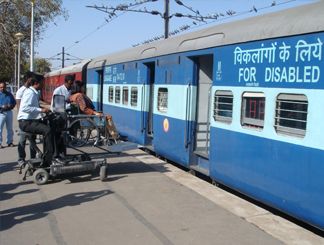 Indian Railways is committed to make its Railway Stations and trains accessible for Persons with Disabilities (Divyangjan) as part of "Sugamya Bharat Mission" or Accessible India Campaign of Government of India. Improvement/ augmentation of amenities at Railway stations, including those for differently abled passengers is a continuous process.
The existing provisions in this regard are as follows:-
Instructions already exist for provision of Wheel Chair at stations. The Wheelchairs are provided by Railways on its own cost and are given to attendants of the Divyangjan, Senior Citizens absolutely 'free of cost' to escort them from and to the trains. However, whenever attendants are not willing or available, porters (Sahayaks) can be hired on pre-fixed nominal rate to escort the Divyangjan etc. Information in this regard are displayed at prominent places in railway station premises.
Provision of one wheelchair per platform and in case of island platforms, one wheel chair per two platforms at all major stations.
Yatri Mitra Sewa has been introduced at major railway stations for enabling passengers to book wheel chairs services cum porter services free of cost through NGOs, Charitable trust, PSUs etc under CSR.
Zonal Railways have been advised to sensitize the Station Superintendent/Station Master/Dy.SS (Commercial) to be empathetic towards the needs and concerns of Divyangjan so that any Divyangjan passenger requiring assistance may approach them.
Disabled friendly toilets, ticket counters and earmarked parking facility are being provided at all major stations.
Provision of Battery Operated Vehicles (BOVs) at some important stations for Divyangjans, Senior Citizens, Sick passengers and Pregnant women is being made 'free of cost' through Corporate Social Responsibility (CSR) and commercial publicity route as well as on chargeable basis.
Further, lifts are being provided at major Railway Stations as part of 'Sugamya Bharat Mission'. So far, 559 lifts at 239 stations (upto 31.01.2020) have been provided.
Besides the above, IR has designed and incorporated SLRD (Second Class cum Luggage cum Guard Van & Disabled Friendly Compartment) ICF and LHB coaches with facilities like Wider entrance doors for entry of wheel chair, Wider aisles area, wider berths, wider compartments and Divyangjan friendly toilet with larger lavatory and lavatory doors, additional grab rails on the side walls, wash basin and mirror at a lower height. At present 3460 ICF type and 18 LHB SLRD coaches (as on 31.03.2019) are in operation over Indian railway.
Short term facilities as detailed below have been planned at all stations:
| | | |
| --- | --- | --- |
| S. No. | Facility for Persons with Disabilities (Divyangjan) | Approximate number of stations, where facility provided |
| 1 | Standard ramp for barrier free entry | 4064 |
| 2 | Earmarking at least two parking lots | 2024 |
| 3 | Non-slippery walk-way from parking lot to station building | 2110 |
| 4 | Signages of appropriate visibility | 1820 |
| 5 | At least one drinking water tap suitable for use by Persons with Disabilities (Divyangjan) | 3107 |
| 6 | At least one toilet (on the ground floor) | 4201 |
| 7 | May I help you booth | 1325 |
In addition, long term facilities as detailed below have been provided as under:-
Provision of facility for inter-platform transfer.
Engraving on edges of platform.
This information was given by the Minister of Railways and Commerce & Industry, Shri Piyush Goyal in a written reply to a question in Rajya Sabha today.